Riduco S.A. is a manufacturing company with technical knowledge, experience and state-of-the-art technology; dedicated to the manufacture and commercialization of injected and extruded plastic products, which guarantees its customers quality, confidentiality, timely delivery, technical support and its shareholders a return on investment with permanent growth, continuous improvement, efficiency, productivity, a competent team and social responsibility.
RIDUCO will remain a world-class company, increasing profitability and market share, as a strategic ally of its customers, through operational excellence and a productive team.
Riduco S.A., consolidates its business performance with ethical principles, strict attention to legal norms and with the disposition to project its collaborators to be citizens with moral, social and professional values.
We are committed to responsible management when interacting with stakeholders and the environment; as part of this philosophy, the company's objectives include contributing to the economic and social progress of the region and the country.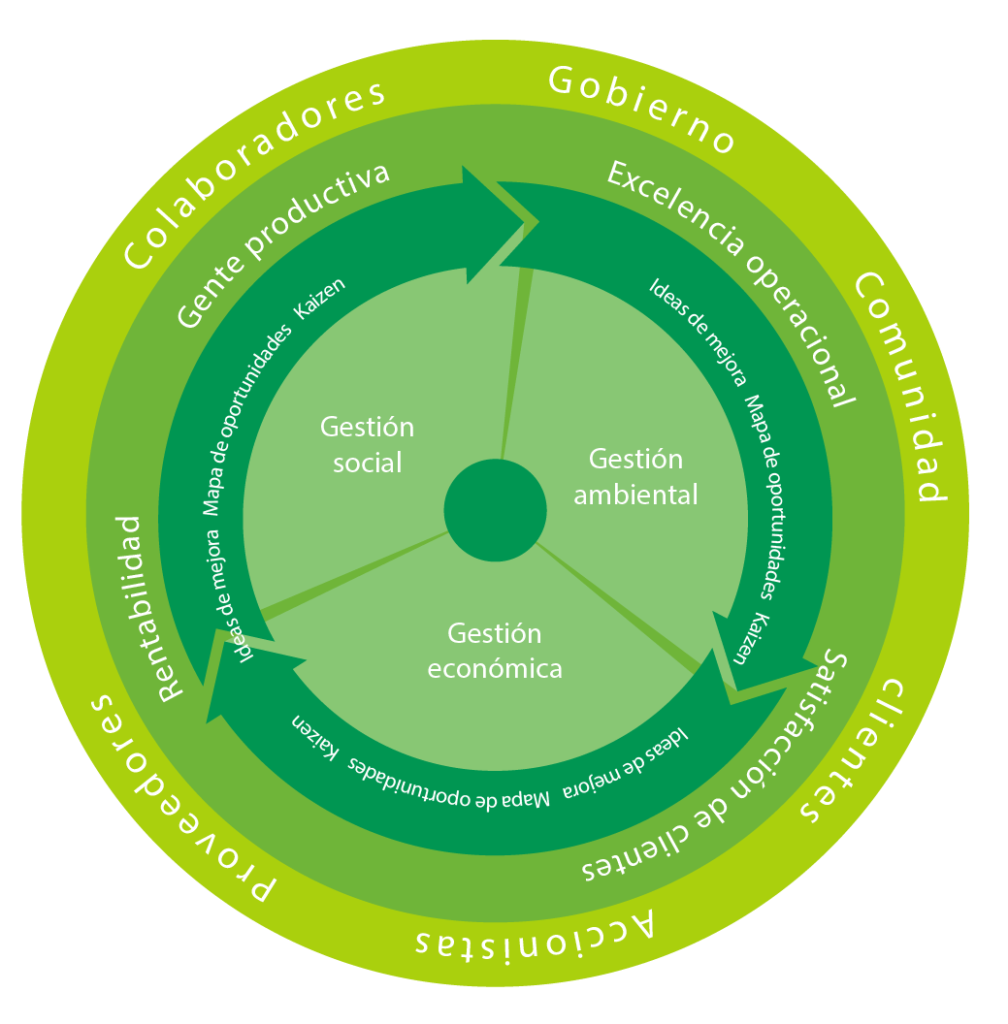 Corporate social responsibility program that guides the conduct of all our collaborators towards a transparent and integral administration for sustainable development.
Empowering our people and being an excellent place to work, are our main objectives in human resources management, developing talent and improving the quality of life of our people, developing programs such as:
• Kaizen – improvement ideas – innovation systems.
• Succession plan and career development path.
• STANDARD manufacturing training plan.
• Skills school.
• Flextime.
• Performance evaluation and work environment measurement.
• Workplace Coexistence Committee.
We are an environmentally responsible company that makes efficient use of natural resources and creates positive impacts for society.
Optimizing water resources at the Medellín and Manizales plants: Project focused on saving water and energy by replacing conventional cooling towers with high-tech adiabatic systems. 61% water savings.
• 47% of our machinery is electrically powered for energy efficiency.
• Energy Committee. Our objective is to promote the rational and efficient use of energy and to reduce consumption and financial costs.
• Environmental education and ecological awareness.
• Carbon footprint measurement.
• Waste sorting and reuse of resins and packaging material.
• Promoting recycling culture.
• At the Manizales plants we use energy from 100% renewable resources.
Principles of
good corporate
governance and business ethics:
Our code of ethics and good corporate governance allows for transparent and integral management relations with our stakeholders, under the principles of the global human rights
framework.
Corporate Social Responsibility
We do not support child labor, for this reason it is
forbidden to hire children or use them to perform any type of work.
Salaries and benefits components are in
accordance with Colombian labor legislation.
When hiring, compensating, or dismissing personnel,
no discrimination is made based on the attributes of: race, national origin,
religion, age, political affiliation, disability, gender or sexual orientation.
We support the openness of ideas coming from
each employee, accepting feedback, different opinions, among others,
through open, frank and timely communications.
Occupational health and safety
We guarantee a safe and healthy environment for our employees by evaluating the risks of each activity.
As a responsible organization, we look after the development of the community and society, directing our efforts to provide mechanisms to improve the quality of life, education and reduce poverty rates.
Riduco supports the management of the Corporación de la Sagrada Familia, a NGO dedicated to providing
comprehensive care to more than 350 pregnant mothers and early
childhood population of vulnerable communities in the city of Manizales,
making micro-donations by workers.
We promote volunteering among our
employees so that they contribute with their working time, logistical and pedagogical support in the 17 life project workshops for pregnant mothers that the Sagrada Familia Corporation organizes.
The Board of Directors allocates annual donations from profits. Each year Riduco makes donations in kind and in cash to non-profit entities of vulnerable population, low-income educational entities and to encourage musical education in children.